As we approach the Yamim Noraim, we increase our introspection and try to broaden our activities on behalf of the klal. Faced with a worldwide pandemic, we have myriad causes to support that have been negatively impacted during the past seven months. Included in the top causes for the Jewish community is the welfare of our brothers and sisters in Eretz Yisrael. Our community has come through admirably for acheinu in Israel during the wars and intifadas that have beset them. One of the organizations that has promoted this support is ACHI, American Communities Helping Israel. Founded 15 years ago by Suzanne Weilgus, ACHI now consists of a team of five former high school friends currently living in New York, New Jersey, Baltimore, Florida and Israel.
ACHI is set to launch an exciting project in support of Israel. Much like the successful Ben Yehuda Fairs organized in response to the Second Intifada in 2004 and held at shuls in and around New York and New Jersey, ACHI has just launched its new ACHI Market available on its updated website, www.achi613.org. Created by an enthusiastic 20+ year veteran of web and mobile applications, Stephen Plotsker of Boca Raton, the ACHI Market is an online marketplace populated with vendors from all over Israel who can sell and ship their products to consumers throughout the United States. Through an ongoing intensive digital and social media campaign, the ACHI team directs the consumer to its website and the vendors on the ACHI Market, which features a vast array of products from Israel.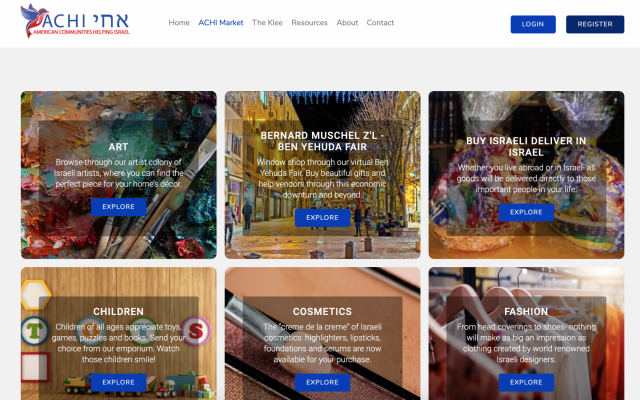 One major section of the online market is the Bernard Muschel z'l Ben Yehuda Fair, created in memory of the father of founder Suzanne Weilgus. This section of the website focuses on gift shops in Israel whose owners have lost much of their business as a result of COVID-19. In addition to gift shops, the ACHI Market will offer Israeli businesses of every category, which will enable consumers to "Buy Israeli-Deliver in Israel." Those with family in Israel will now be able to simply click on a vendor in Israel and select gift items which will be delivered to their family's doors before the chagim. For those with children and grandchildren studying in Israel, the website will offer us the opportunity to gift them with items made in Israel and delivered directly to them in Israel.
Suzanne Weilgus, along with Gloria Gordon and Rochelle Zupnick, formed their fledgling grassroots organization ACHI 15 years ago. They were later joined by Tova Taragin and Dr. Lynda Zentman. Their mission was to go into yeshiva day schools, shuls and community organizations and encourage them to "Think Israel-Buy Israeli." Meeting with rabbis, principals and lay leaders, they encouraged their receptive audiences to make the lateral change of giving Israeli products priority when purchasing food products. They urged people purchasing artwork for the home, wedding and bar/bat mitzvah gifts, house gifts or any occasion gifts to opt for products made in Israel. They encouraged schools and shuls to serve snacks exclusively manufactured in Israel. Their KLEE project encouraged households to prominently display a "klee," dish, preferably one made in Israel, filled with sweets from the Holy Land. Their twofold goal is to keep Israel in the hearts and minds of Jewish consumers in all facets of their lives and at every age and to boost Israel's economy.
The newly updated ACHI website, which introduces the ACHI Market, also maintains the wide array of resource material for educators teaching Ahavat Eretz Yisrael in their classrooms. There is also a section dedicated to the KLEE project, including videos instructing KLEE crafting and contests. The team has even included a section with cooking videos demonstrating recipes including Israeli products. The ACHI Market is user friendly and will be updated frequently with new products and services.
For more information, visit achi613.org. If you are or know an Israeli vendor who would benefit from being included in the ACHI Market, visit www.achimarket.com. To learn more about the Klee project visit www.achi613.org and click the KLEE tab.
By Pearl Markovitz